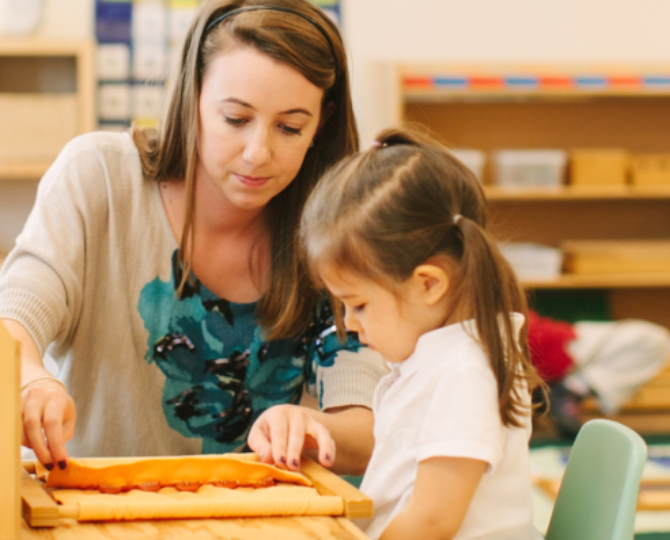 Endeavor Schools Launches 'Hybrid' Montessori Training Program for Working Teachers
Providing professional development opportunities for our teachers is a core asset of our company. And with our Montessori Alameda Teacher Education Program, we provide full-time teachers with the opportunity to learn the Montessori method through a program designed to fit their schedules and needs.
Led by Lee Lanou, the Director of Montessori Education at Endeavor Schools, the Montessori Alameda Teacher Education Program (MOATEP) focuses on principles created by Dr. Maria Montessori, the creator of the teaching method that bears her name. This includes developing the prepared environment and instilling a deep respect for children and sensitivity to their various learning styles. By the end of the program, teachers have a solid understanding of the Montessori method and gain experience in applying them in the classroom.
To fit the schedules of working teachers, the program will include online learning modules, combined with an intensive, in-person summer residency program in Portland, Oregon.
"MOATEP is such a special training program for educators who want to become credentialed Montessori teachers," Lanou said. "The accessibility for working adults is a cornerstone of our program format."
Caleb McGuigan, a primary (ages 3 to 6) teacher at Montessori of Alameda in Portland, is one of the first participants in the program and has already began utilizing what he has learned into his classroom.
"Lee does an amazing job of making the subject matter very approachable and understandable," McGuigan said. "Even after a short period of time I feel as though I've been able to grow personally and professionally thanks to Lee and the opportunity to be part of the cohort."
Combining Two Schools of Montessori Philosophy
Another major feature of MOATEP is that teachers will earn a Montessori teaching credential from the American Montessori Society, but they will also be trained in two schools of Montessori methodology: AMS and Association Montessori International (AMI).
Lanou holds from both AMS and AMI, which gives her the unique expertise to combine best practices from both training methods and implement them into MOATEP's curriculum. In addition, the MOATEP faculty will include additional instructors trained in one of the two methods.
"What this means for the adult learners is that our program dives incredibly deep into the Montessori theory and philosophy, which the AMI training is known for," Lanou said. "Understanding the 'why' behind what we do as Montessori teachers helps us to be able to offer the children a more thoughtful and powerful educational experience."
The MOATEP curriculum also contains the ingenuity and creativity that AMS training is recognized for.
"Combined together, this allows teachers to become thoroughly transformed in the training process so that they can best serve the children, which is our primary goal," Lanou said.
"Within the child lies the fate of the future." – Dr. Maria Montessori
 With MOATEP, Endeavor Schools plans on contributing to the next generation of Montessori teachers, who will be responsible for guiding the next generation of students.
 "By teaching teachers, we can positively impact a larger number of children, which continues to grow exponentially," Lanou said. "And to be able to give as many young children the opportunity to experience a Montessori education as possible, is vital to creating a humanity which will help to heal our world and create a better future."
For participants like McGuigan, the benefits of MOATEP are clear.
"If you can dedicate personal time to the program, you should be able to thrive as an educator," he said.
 Program Details
MOATEP tuition is free for Endeavor Schools teachers.
The hybrid online and in-person program currently focuses on training teachers for the early childhood stage (ages 3 to 6).
The infants and toddlers program (for children under 3) will be conducted fully in residence during Summer 2021.
Both programs include comprehensive curriculum includes the full Montessori methodology of Practical Life, Sensorial, Language, Math, and Cultural Studies.
Participants complete coursework in child development, observation techniques, effective record keeping, classroom management, healthy parent communication, effective administration, and much more.
Endeavor Schools also has plans to expand the program after the inaugural year to include a hybrid program for infant and toddler training, and to bring the residency training to other cities, including the company's major hubs of Atlanta and Minneapolis.
For more details on the Montessori Alameda Teacher Education Program and how to apply, visit the program's website at www.moatep.org.