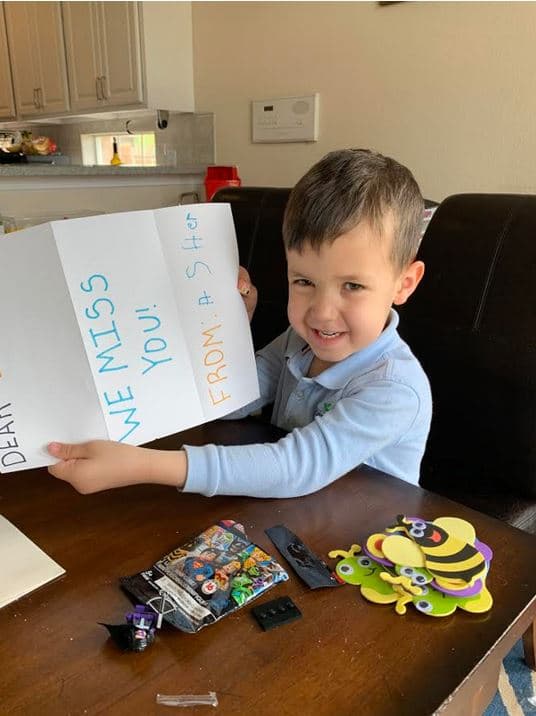 On a recent Monday morning at Carpe Diem Preschool in Southlake, Texas, parents came by with their children to pick up remote learning packets as children inside the school stood by a window and held signs that said, "Hello" and "We miss you."
The children holding the signs were still attending school because their parents are essential workers. They hadn't seen their fellow classmates in person for weeks because so many are doing remote learning and teachers wanted children to see each other and share a moment of happiness with them – a rare occurrence in this time of social distance due to coronavirus precautions.
"The children had a great time making the signs and it meant a lot to the parents and children outside when they saw them," said Gerri Kelley, the school leader. "Being able to see each other and smile lets them know that they're still together, even if they're temporarily apart."
As social distance has threatened to wither away bonds and friendships, this small interaction meant a great deal to the children on both sides of the window. That's why our teachers throughout the Endeavor Schools family have been creating ways to keep children connected and ensure that their friendships stay intact.
Across the country at more than 50 schools within the Endeavor Schools family, teachers are coming up with a variety of creative ways to keep children connected to each other.
At Endeavor Montessori, an infant through upper elementary school in Dunwoody, Georgia, all students are learning at home. To create a sense of community, teachers created a yearbook for the students and sent it as a pdf to their parents. They also wrote the names of every student on paper hearts and taped them to the glass window of the school.
School Leader Sue Hansen said her staff wanted to see the students to see each other in the yearbook and later come by the school to see their names with others in the same window.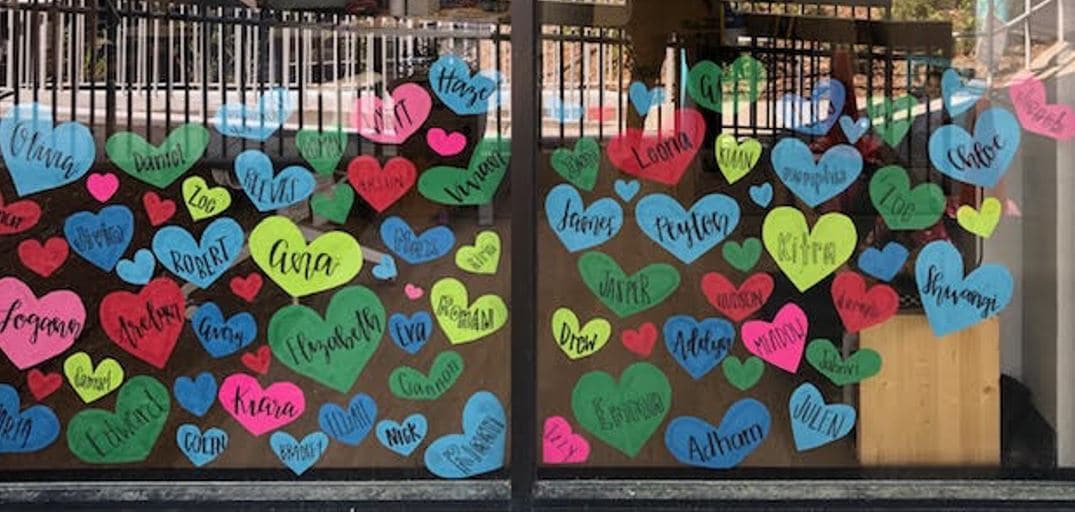 "We truly miss our children here at Endeavor Montessori even though we see them in the virtual classrooms and we know they miss each other very much," Hansen said. "They say 'hi' to each other online but we know they want nothing more than to be at school. They all love learning the Montessori way, which is relationship teaching at its finest."
At Silverlake Montessori in Cypress, Texas, teachers are engaging children at home in fun group activities online to mimic the feel of being inside their classroom.
During a recent remote classroom session, Silverline School Leader Nikki Handy had children "freeze dance," a game in which children dance as music is played and then stop when the music is turned off. Haley acted as DJ, playing songs like The Gummy Bear Song and Shake it Off, and children danced away as they saw their friends on screen doing the same.
"Children were so thrilled to see their friends dancing on screen and they were able to participate to an unexpected level," Haley said.
Even the Pledge of Allegiance has been made a part of the remote learning program at Silverline. Montessori School.
Students in school and at home each get a turn at being the designated "flag holder" as they hold up their homemade flags on screen as the rest of the children say the pledge in unison.
In addition to making children feel connected, Haley says these group activities help sharpen children's active listening skills.
"The teachers are constantly looking for more ways to make the experience of remote learning more interactive," Haley said.
As children at Endeavor Schools are staying connected, their parents have shown great appreciation for our teachers' efforts.
"Though we are dealing with some very crazy times, I am so very blessed to have you all in my family's life," one parent recently wrote to the Carpe Diem staff in Southlake, Texas. "We hope our son is able to continue with Carpe Diem until he is too old to be there."
At Endeavor Schools, we are doing all we can to make sure children receive a joyful education, whether they're at home or in the classroom.
https://www.endeavorschools.com/wp-content/uploads/2020/04/missyou.jpg
716
536
Ray Downs
https://www.endeavorschools.com/wp-content/uploads/2018/04/endeavor-schools-color.png
Ray Downs
2020-04-20 12:54:38
2020-04-20 12:54:38
Helping Children Feel Connected to Classmates During Remote Learning