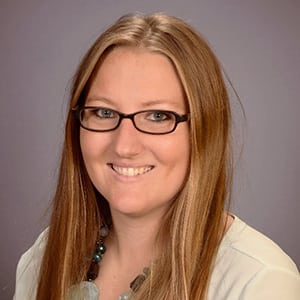 School Leader, Prep Academy Schools – Polaris
Katie Smith, School Leader at Prep Academy Schools Polaris Campus, started her career as a substitute teacher 10 years ago at Prep Academy Schools Dublin Campus.
"How I got started in the childcare industry and at Prep is unique. My mom was the Executive Director of Prep Academy when I was in college, and I would help as a substitute teacher during my holiday breaks."
Katie originally went to college for Mass communications with the intent of entering the radio broadcast industry. "But fate had a different plan for me," she said.
Katie had a hard time finding a job that she desired within the broadcasting field, so she started subbing at Prep again.
"I look back on that and am so thankful life had another plan for me, because I cannot imagine working in a field that does not involve children, and especially early childhood," Katie said about her unexpected yet fulfilling career journey.
Throughout college, Katie's family kept encouraging her to get into education, as Katie has always loved working with children. "They felt I had a natural ability to connect with children, but I pictured myself in a different work environment."
After college, Katie decided to embrace her love for the education industry and spent a year as the Administrative Assistant at the Dublin campus. She was quickly promoted to Assistant Director and served in that position for five years. About a year ago, Katie transitioned over to the Polaris Campus as their new School Leader.
Katie says that this year has been the most challenging since she started her journey in early childhood education, but with the help of the Endeavor Support Team and Regional Director of Operations (RDO) Kelly Byrd, she was able to excel in her new role.
"It was the support and encouragement of my RDO, Kelly, that I accepted the position as Director at the Polaris campus. It has truly been the most humbling experience that I am forever grateful for. Not only did I have the support of Kelly, but so many others on the Endeavor Support Team who have continued to root for me, as a leader, and our school team the past few months."
Katie mentioned that despite her initial struggles as a new school leader, she eventually blossomed into her new role. "During the many difficult times this past year, when I started to doubt myself as a leader, Kelly constantly showed that she believed in me and the vision I had for Prep Academy, Polaris," Katie said. "It has been an honor to work with the many people from Endeavor, too many to name, that have helped to foster my leadership skills, challenged me to think outside of my comfort zone (which for me is difficult at times), to always stay true to who I am and to never stop growing as an individual and a leader."
"I have been able to bring the things I have learned from them back to my team, which has been so incredible to see their growth as well," Katie continued. "I am so grateful for each person who has helped get me to this point in my career. It has been an honor to work with all the teachers, leadership and Endeavor Support Team over the years, and I am so anxious to see what the future has in store for our team!"
Although this past year has been the most challenging for Katie since she began her career in early childhood education, she says that it has also been one of the most rewarding.
"I feel incredibly honored, blessed and humbled to be able to work with and learn from our students each and every day," Katie said. "To see the world through their eyes, to have the privilege of celebrating their successes and helping them grow through their trials, that is what I find most rewarding when working with our students."
Katie says that its not only the children that make her experience at Prep Academy so rewarding, but the teachers, as well.
"We all spend most of our time at work, so it is very important to me to foster a warm and positive environment that resembles that of our homes, making it a second home for all of us," Katie said. "It blows me away when I see teachers comforting each other during difficult days, or when teachers come to me for advice or guidance, or when they engage in each other's lives, I find it inspiring."
Katie said that she is most proud of her and her team's perseverance. "Whenever there is a change in leadership, the school as a whole is bound to face challenges, which we have absolutely experienced this year," Katie said. "But no matter what, our teachers keep coming to work with a smile on their face and do what each of us is called to do, which is to help our students learn and grow. It makes me so eager to see the growth and progress our team will continue to make in the months to come."
The advice that Katie would like to impart on her team members who share her same aspirations is to always believe in yourself and your abilities. Katie believes in celebrating strengths and successes, while also learning from areas that could be improved in order to foster growth.
"Remember that you are going to face trials and challenges, but trust your instincts and your past experiences," Katie said. "Be open-minded and learn from your peers and mentors. Thank and recognize your team, you cannot do it without them. Don't be afraid to ask for help and guidance. And never forget that we have one of the most important jobs in this world to help love and educate the children we have the honor of serving. Our students are our future."